Posted by

Jason Triplett
Monday, September 18, 2006
By now, many of you have heard of the shitty pre-order plan that GameStop/EB was launching. Forced to trade $50 worth of stuff for your reserve? WTF? So I did a little digging. I called 15 GameStop and EBGames nationwide this morning (even one in Hawaii, where this was rumored to come from). Most of them had heard of this promotion, but all said it was fake. The marketing never made it to stores, the district managers never mentioned this once.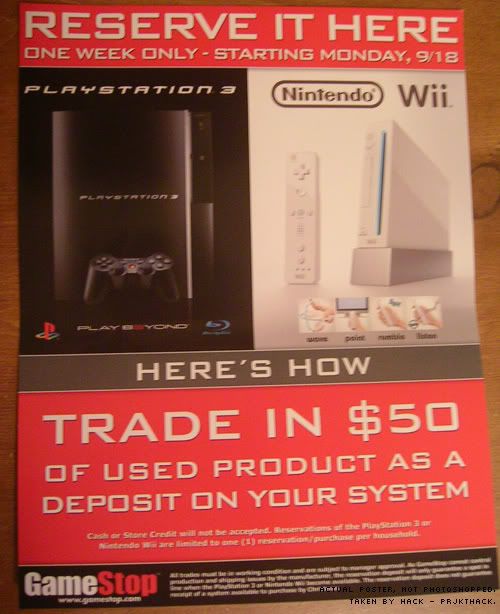 So where did the above poster come from, if not from GameStop? We think it is a doctored photo. The guy who took the photo made sure to put on it that it wasn't photoshopped. Well if that is so, then why didn't the promotion start today? Why have no stores gotten news or marketing for this "event"? Simple, this is a cut and paste of real marketing made to look like something it's not. A few scans, then a rough photo of the finished product to make it seem believable.
Well being the digger of news that I am, I called corporate, who promptly told me that their pre-order plans had not been finalized as of yet, and in now way were they going to begin on the day mentioned, or in that particular method. They still didn't 100% deny it, but I think that says it all.
Whoever created this hoax gets the 100% bullshitter of the month award!

Thanks to my friend Rameen Yousefi for the heads up on this whole story.

Blog Archive